Mandarin Oriental Bangkok: the legendary "Grande Dame"
The Mandarin Oriental, Bangkok, situated on the banks of Chao Phraya River, near the city center, is a legendary hotel. Inaugurated in 1879, The Mandarin Oriental has earned an international reputation in the luxury hotel over the centuries. A rich history fully connected with distinguished travelers and famous writers who have get some of their inspiration from this hotel.

Le lobby au Mandarin Oriental Bangkok © Mandarin Oriental Bangkok

With 358 rooms and 35 suites, some with a wonderfull view over the river or the gardens, the Mandarin Oriental offers a luxurious and contemporary atmosphere. Managed with high standing elegance and international know-how by Jan D. Goessing, the general manager, Mandarin Oriental, with its ten restaurants (some with terraces overlooking the river), is the great gastronomy and hospitality reference in Bangkok: French cuisine at Normandy, Thai at Sala Rim Naam, Cantonese cuisine at China House and Seafood at Lord Jim, The Mandarin Oriental Bangkok has always opened his heart to very tasteful flavors.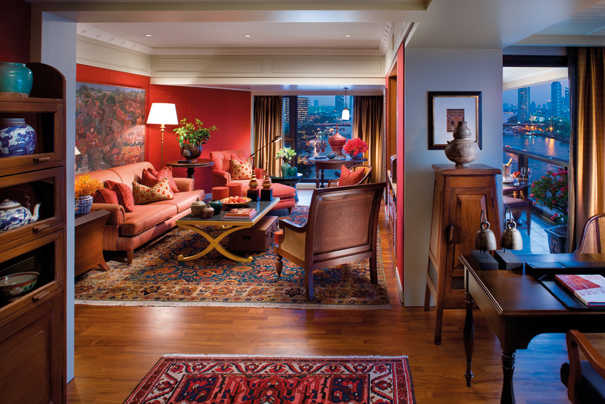 Une Suite Mandarin Oriental Bangkok © Mandarin Oriental Bangkok

The Oriental Spa,has been awarded "best spa in the world." With two pools, a cooking school and tennis courts, large and beautiful rooms (adjustable) for business meetings, weddings and banquets, The Mandarin Oriental, also known as the Oriental or the Grande Dame, is considered the hotelier and culinary pinnacle in Bangkok, right on the "River of Kings". What could be more royal for a luxury stay in Siam kingdom!
Mandarin Oriental
48 Oriental Ave,
10500 Bangkok, Thailand
+66 2 659 9000
Email: reservations@mohg.comreservations@mohg.com