Jordi Artal: Great Catalan Cuisine
This restaurant, held by Jordi Artal and Amelia, was already recognized for several years as one of the best restaurants in Barcelona. In 2008, it obtained its first star in the Michelin Guide Spain. A highly deserved reward … Indeed, Jordi Artal, boundless passion and hard worker, dedicated all his time to fine dining.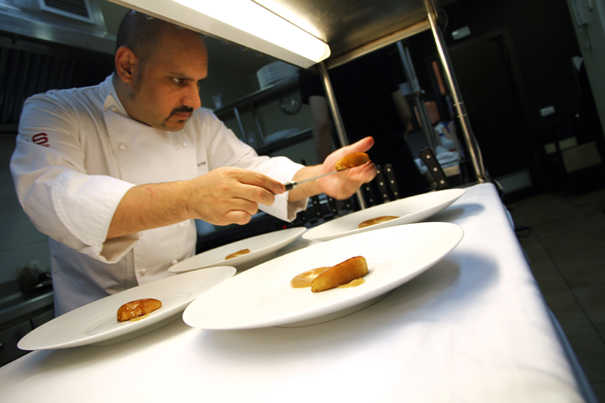 Jordi Artal in kitchen © Copyrights – Jérôme Chapman

And over time, inspiration, discipline and perseverance have led straight on the road to success … The restaurant showcases an elegant and minimalist contemporary "design" in total harmony with original signature dishes.
In the kitchen, Jordi ensures creation of well-balanced flavors with steady hand and precise tempo … combining classic and modern styles, cooking tradition and new Catalan cuisine. This fusion cuisine is expressed with subtle panache in a crescendo of unexpected delighful tastes.Just try "Sensacions" menu: "almonds" Marcona ", anchovy sticks and figs, olives" Gordal "marinated and stuffed peppers red, maple syrup, cream, cava sabayon "in amuse-bouche," pan con tomate "," coca de foie gras – caramelized terrine, candied leeks' input, to be followed by the "red mullet in flickers, vegetable julienne of "samfaina" lemon thyme ", the" Mar y Montaña – fried langoustine and lentils "pardina" "," the Iberian pig, apple in two textures, ratafia "and" beef cheek Avila, boneless, parsnips, beets and carrots. "
.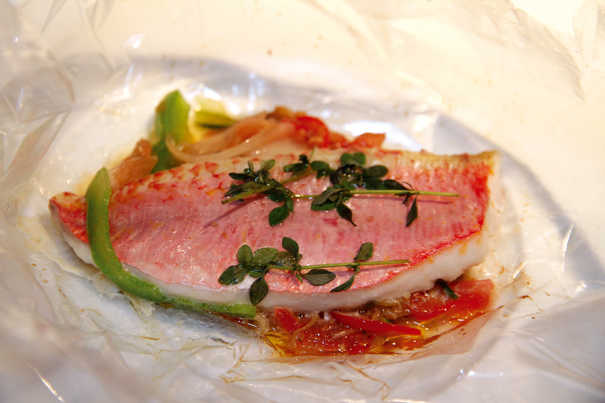 Mullet en papillote © 2010 – © Copyrights – Jérôme Chapman

Try also the desserts: "Fisheries maresme, and pistachio ice chamomile" or the famous "chocolate with bread, oil and salt – ice olive oil, crusty bread and sea salt." On service side, Amelia Artal brings her smile and advice from table to table … suggesting food and wine pairing.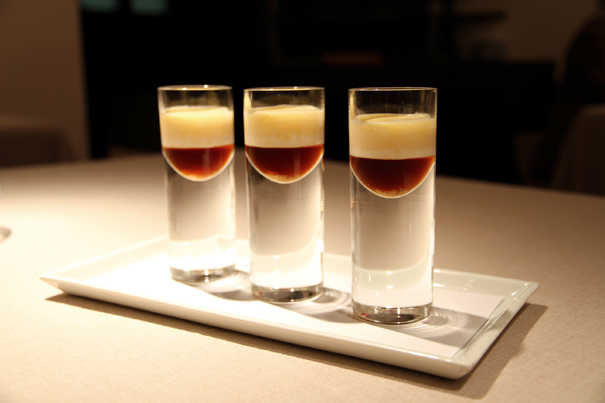 © 2010 – © Copyrights – Jérôme Chapman

Thus we discover the richness of Spanish wine regions, such as the excellent "Caligo vi Boir – Massis del Garraf", "Missenyora", "Dehesa de Rubiales", "Taberner No. 1", "Sierra Cantabria Collection-private "," Jorge Ordonez "or" Serra Massia Ino "… the wine list is really great and brings a full harmony to creations Artal"s creation. "Located in a very "trendy" Barcelona's neighbourhood, ​​the Cinc Sentis is a great restaurant with surprisingly high quality, it's worth the visit.
Cinc Sentits
c/aribau, 58
08011 Barcelona – Spain
Tel. +34 93 323 94 90
Carte, 21 à 30 euros
Menu 49, 65 euros